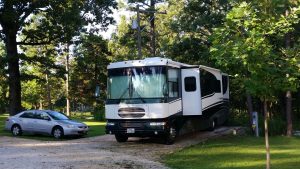 Our family is camping in our RV near St. Clair, Missouri, to see the solar eclipse on Monday, August 21st.  St. Clair is one of the cities n the USA that is on the path of "totality".
This means the moon will hide the sun completely there, so it will be totally dark around 1:30 in the afternoon on the day of the eclipse for over 2 minutes! We are so EXCITED  to be able to observe this!!
In the meantime, my grandsons are having fun taking walks in the woods and enjoying the great outdoors.